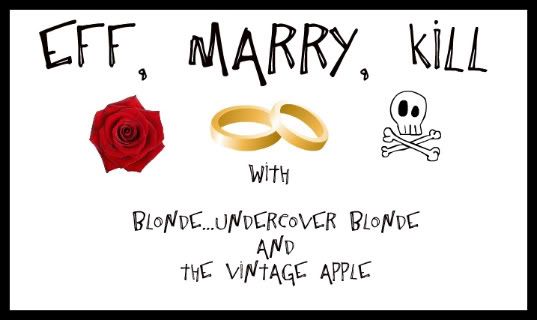 I love Eff, Marry, Kill.
Today's choices are Disney Princes!

So my choices are Prince Eric from The Little Mermaid, the Beast from Beauty & The Beast, and John Smith from Pochantaus.
My Choices:
Eff: Prince Eric
- look at that smile, those blue eyes...and if you watch the movie you know for sure he knows how to tease someone just enough to keep their interest! I mean he has Ariel on the edge of her seat. I'd definietly Eff the hell out of Prince Eric.
Marry: The Beast.
Umm he can keep in an enchanted house that can make me anything I want to eat at all hours of the night, and he has a library that is out of this world. SIGN ME UP! Plus, since he's the "beast," I'll always feel tiny and petite next to him. Plus, he's a beast...I'm sure that would translate to lots of fun in the bedroom.The Beast is definietly marriage material.
Kill: John Smith-
Call me a new aged woman but I'm not about all the conquering, and white supremacy. Yes, he eventually sees Pochantaus's side...but not after trying to take land away from the natives. I'd off John Smith and give us all a break!