Thursday's are a great time of the week for me to sit and think about what I'm thankful for. Friday seems semi-within reach, yet the whole week is still weighing on you. What better time to reflect on what makes you grateful for the life you have?
1. Being an alumn of the College of Charleston. Isn'y my college beautiful? That's our main building, Randolph Macon Hall, that is in the photo above. You may recognize it from movies like Cold Mountain, The Patriot or Dear John to name a few. Anyways, it is beautiful. This trip back to CofC this weekend just prooved to me how lucky I am to have attended The College. I made amazing friends, got to live in an amazing city and don't have any regrets. My trip back this weekend for the College of Charleston Alumni Meet was great. I got to see people I hadn't seen in forever and a few old favorites.
2. My study abroad experince. This past weekend when in Charleston I met up with a friend of mine who attended Southern Mississippi but was on my study abroad trip to London in 2007. I have not seen said friend since 2007,a nd ended up hanging out with him and having brunch with him on Sunday! I'm so greatful for that connection and to still feel like I have a great friend in addition to the amazing experince.
3.I'm still thankful for grits.......like seriously...I think I eat grits 5x a week. Southern Cereal is my new meal replacement. I eat it for dinner...breakfast, lunch....brunch...I think I have a problem.

My actual pair of Tory Burch's!

4.Sunglasses. Apparently Florida has not gotten the message that it is FALL! Seriously. It has been hotter and more humid the past week than it's been in forever. I am ready for the cool temps. Thank goodness while I am out in this ridiculous heat coaching I am able to find some relief in the form of sunglasses. They battle the glare of the pool, keep sweat at bay and make me feel as if I am not completely melting on the spot. I love sunglasses.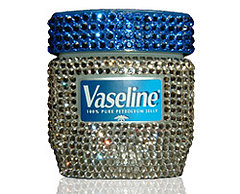 Look at the bling on this Vaseline Bottle...I may be a bit jealous.
4. Vaseline- gross right? But guys. Have you ever used it as a chapstick? Seriously. Best thing ever. I have lips that are definietly on the fuller side (lucky me), and vaseline does an amazing job of keeping them smooth, supple, and kissable...oh wait....they're just not chapped. But really, there is no scent or taste to get tired of (you know what I am talking about ladies) its cheap, and it works better than any of the medicated balms that you buy when your lips get nasty in the winter. I'm telling you...Vaseline is the best...if you haven't tried it on your lips...well...you should!